Alarm Services » Network Thermostat » RTH8580WF Wi-Fi Thermostat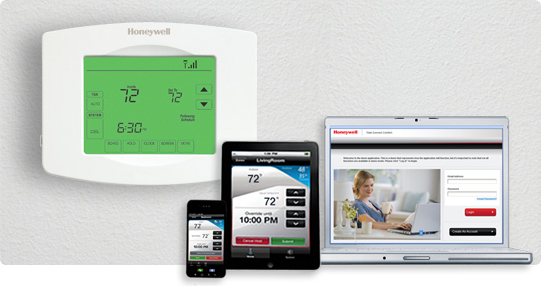 RTH8580WF Wi-Fi Programmable Touch screen Thermostat
FREE mobile app available with no monthly service fees


The newest and most advanced thermostat in the Honeywell line up connects to your home's Wi-Fi network so you have full control via your smartphone, tablet or computer anytime anyplace from anywhere in the world.
Away on vacation? Driving up to the cottage? Forgot to turn the heat down? Forgot to turn the heat up? No problem when you have our new Wi-Fi Toch Screen Thermostat you are in the driver seat.
Unlike some of our competitors we do not charge any monthly charges to provide you complete control of your thermostat from anywhere in the world when we use the NEW (RTH8580WF) .
Imagine complete control from any Smartphone device which also includes your iPhone or Android device and it won't cost you one red cent.
Nada, nothing zereo. Why would you pay a monthly monitorng fee for something you can get for free?

Our favourit feature is "smart response technology" the thermostat measures how long it takes for your HVAC system to bring your home to the programmed temperature you desire. Over some time as the thermostat learns it will adjust
your start time so that your home is at the desired temperature at the time you want, as opposed to firing up your HVAC system at the time that the programming is set to kick in.

Check in on your home with Honeywell's free smartphone app. Working late? You can delay your normal heating setting hold the temperature and it will resume at your standard bed tme programming
Pre-Lock will help you creat a Honeywell Total Connect Comfort account so you can start enjoying the benfits of your new thermostat within minutes. You will soon have the confort of control, from across the room around the world.

Delay your furnace or air conditioner's start time and save energy. Using the free Honeywell app (for Apple® iOS™ or Android® devices), you can securely access multiple thermostats from various locations from down the street or half way around the world.

Huge Energy Savings with proper programming allows for up to 33% on annual heating and cooling costs for your home.
Features:
Wi-Fi enabled 7-day programming allows separate programming for each day with 4 program periods per day
Secure Network
Automatic change over from heating & cooling
View current outdoor temperature via postal code accuracy
Free Live Email reporting up to 6 email address
Smart Response Technology that learns how long it takes to keep the temperature what you want
Wi-Fi enabled thermostat allows for remote access via smartphone, tablet or computer
Free app for Apple and Android Devices
Universal Compatibility - Works with almost any furnace
High / low temperature alerts via email or phone
View local weather forecasts via the Honeywell app
Separate programming for day of the week with 4 settings per day
Program is protected in memory from power outages
Precise temperature control of +/- 1° F
Reminders for changing batteries and air filters
Backlit display
Automatic firmware updates at no additional charges
Manage multiple thermostats from one Total Connect Account
Weather-on-Demand with five-day forecast lets you know what to expect outside throughout the day.
Wireless network operating on "G" or "N" bands
Easy enrollment
An internet enabled device (computer, tablet, or smart phone) with an installed web browser



Specifications:
Requires 5 Wire Termination for full functionality
Simple Installation
Initial setup requires web browser (ie smartphone, laptop, etc)
An active, internet Service Provider Broadband account is required for remote access which includes Bell , Rogers or any stable connection
802.11b/g/n wireless router
Will also work on 4 Wire Termination with loss of fan activation but will work in auto mode
www.youtube.com/watch

Warranty:
Call Us Today at (416) 773-5625 or Pickup one up at our Show Room at 800 Petrolia Road Unit 1, Toronto Ontario
email us at sales@pre-lock.com

Let us arrange to install it in your home today, or take it home and Do It Your Self.

RTH8580WF Sales Broucher



RTH8580WF User Manual